907-746-5015 or Cell 232-4804

Stained Glass and Fusing Supplies


New Class Schedule. There could be classes added any time.  Updated  25 Aug. 2017

TAST OF STAINED GLASS CLASS.  one day class

A One Day Class (5 hours).  Make one of six copper foil projects (seen at the right) you can chose your glass colors.  After the class you should be able to make all kinds of stained glass sun catchers. The class is $85 for up to 5 hours of instructions and the supplies to make the projects using Spectrum glass.

Class Dates

Fall classes starting soon.

INTERMEDIATE STAINED GLASS / MOSAIC CLASS

Alaska Art Glass Supply offers an intermediate stained glass / mosaic class. The classes are scheduled for five days.  The hours are 9 AM to 1PM and 1 to 5 pm. Classes are limited to four students. Class Fees is $225. All glass, materials and tools are provided.  Groups registering for classes of 3 or more will receive a $10.00 discount per Student.

Fall 2017 Stained Glass / Mosaic class are not scheduled yet.  Dates and times can be mad for group classes.

Hope to see you in one of our classes

Alaska Art Glass Supply

746-5015 Shop

232-4804 Cell

Salmon Pattern Designed bay a student and fused for a salmon platter.

Figure skater overlay on backing framed piece.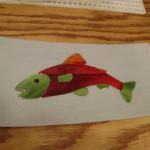 Double click here to add text.